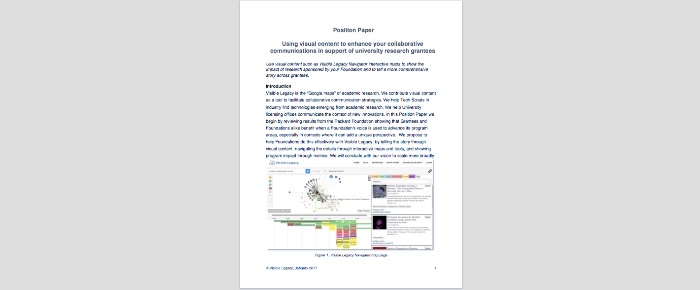 Position Paper: show the impact of research sponsored by your Foundation
Featured
We offer a Position Paper "Using visual content to enhance your collaborative communications in support of university research grantees". The Position Paper is viewable online or available for download.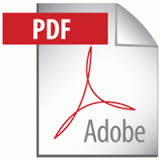 Download the Position Paper.
Outline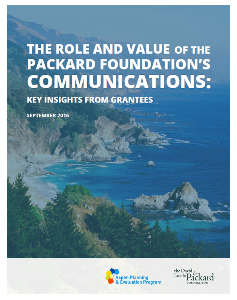 We were inspired by the report "The Role and Value of the Packard Foundation's Communications, Key Insights from Grantees" released last September by the Packard Foundation. You can find it here. The results show that Grantees and Foundations alike benefit when a Foundation's voice is used to advance its program areas. We propose to help Foundations do this effectively by using Visible Legacy to tell the story through visual content. We have put our thoughts into a Position Paper which you can download through the link below. In outline:
The Packard Foundation study found that collaborative communications can be a valuable resource for grantees while raising awareness of the Foundation's more comprehensive strategy and impact.
We suggest that visual content drives better uptake of communications messages. This is widely known and we point readers to David McCandless' compelling Ted Talk on data visualization.
We describe the utility of Visible Legacy Navigator interactive maps and navigation to show context and the story of innovation of sponsored research in a visual way.
We discus which metrics may be useful to communicate a Foundation's impact to stakeholders.
As we scale up to include the top 25 Universities in Navigator, we propose to work together with Foundations to use visual content from Visible Legacy to tell a more comprehensive story and raise awareness about grantees' research and the Foundation's impact. 
We suggest that by working together we can collectively speed the translation of grantee's innovations to industry. We would be happy to offer a proposal of how we will expedite the mapping of universities, centers, labs, research fellowships or grant programs that benefit from Foundation support.
Comment from Packard Foundation Communications Director Felicia Madsen:

For many years, the Packard Foundation was relatively quiet in using communications intentionally to elevate the issues we fund. However, over the last 10 to 15 years, the field of communications changed and continues to evolve rapidly. Communications is no longer just public relations. It is a suite of powerful, accessible tools that can help the Foundation achieve the long lasting change we hope to see. 
Please download the Visible Legacy Position Paper. We welcome your comments.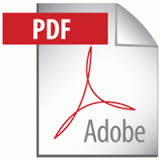 Download the Position Paper.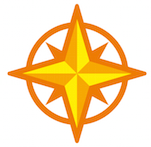 Try Navigator: open the Navigator Map for Mark Schnitzer and see the impact of Foundation funding. Initially funded by Coulter Foundation, secured follow-on funding from NIH and was awarded a Packard Fellowship in 2005, co-founded Zebra Medical in 2014.