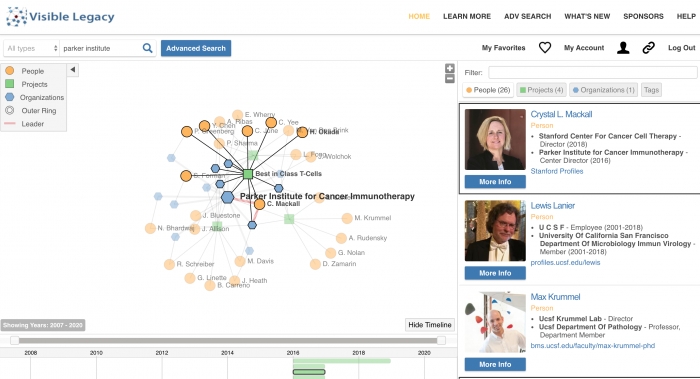 Written by Visible Legacy News
Navigator Update Released
Visible Legacy Navigator(tm) continues to be an attractive one-stop website for tech scouts seeking new innovations or collaborations from the top 25 research universities. Building on the enhancements from last year, we've released another major update to the Navigator website portal including data content and improved features to continue building a powerful map-based search-and-explore front-end to let you quickly view the context of the latest academic research and quickly find direct links to take you to the original sources. 
The recent Navigator update January 2020 includes:
OTL data: we continue to improve our collection of open data from the Offices of Technology Licensing at the top 25 universities and are now snapping grant data to provide context to these innovations.
More grant content: to provide more context, we've added the open data on grants to university projects from National Institutes of Health (NIH) for the top 500 schools, and from National Science Foundation (NSF) for all the schools they fund. 
Faceted search: last year we introduced faceted search controls in the search results. Now ALL organizations and sub-organizations are facetable in the Search Listing page.
More organizations: hosting, funding, and emerging business organizations also provide context. Because we are now showing many of these organizations we now call them Affiliations instead of Schools in search user experiences.
Advanced search: the Advanced Search page has been re-formatted so it is easier to understand at a glance.
Advanced search: the Advanced Search page Affiliation field (was "School") now auto-fills and has boolean search features to get to the right organization or suborg faster.
Detail page: the Detail page accordion listings now show and filter ALL the items and the count metrics are correct.  You can scroll down through all the results.
Detail page: the detail list filtering box (in the accordions) uses a combination of search techniques to make it very fast.
Improved Map page speed: we have reduced the overall node size so it should work better on bad networks and mobile.
Overall speed: we improved caching so the Detail and Map pages load faster.
Data cleaning: we have discontinued display of data from the Metaweb Freebase knowledge graph because it is no longer being maintained.
Backend:  we made optimizations to our knowledge map engine and fixed a variety of bugs.
For your website: Improved maps in embeddable widgets for your website shows your context and impact clearly.
Please check it out here.