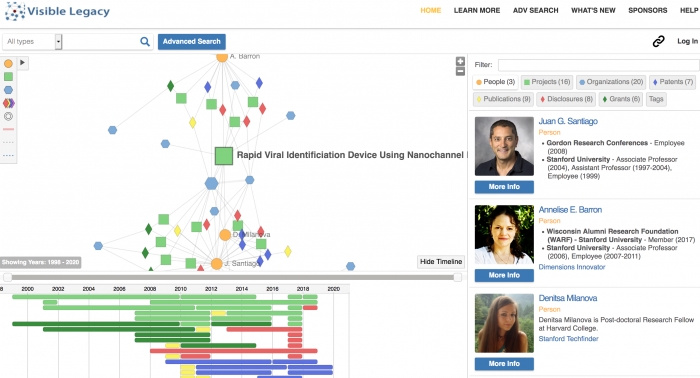 (Image credit: Stanford University)
Finding COVID-19 solutions using Visible Legacy navigational search
In a recent Innovation News post we highlighted a project to develop a rapid field test for COVID-19 at Stanford University. This quick post shows a video for Tech Scouts about how we used Visible Legacy Navigator to navigate around the context of a technology disclosure.
Visible Legacy Navigator and Navigational Search
Visible Legacy is a "graph map of academic research" offered as an online information search and navigation web portal called Navigator™. Aimed at industry Tech Scouts, the map metaphor is faster than a list of search results since it delivers pre-connected relevant data, essentially connecting the dots, to present large amounts of information for each query. Our Visible Legacy Navigator website presents this information in an interactive portal. The ability to see the context and navigate through the graph lets you find related projects to help you find your fit faster.
This informal video walks you through how I found the article and shows some of the elements of using Navigator to find new disclosures, investigators, and related projects.
Screencast Video
Follow the link below to see the Project that this video explores.