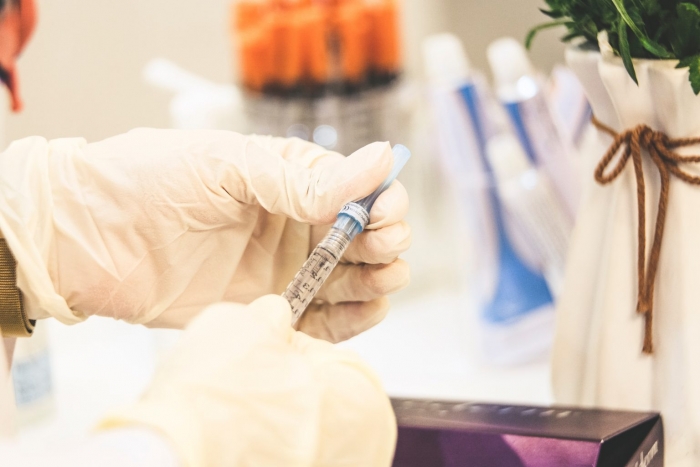 (Image credit: Sam Moqadam/Upsplash via Stanford News)
Stanford research could lead to injectable gels that release medicines over time
Featured
Injecting patients with a gel that would dissolve over several months could replace the need to administer daily or weekly shots. But to make this possible, researchers first had to create a Jello-like substance that could defy one of the fundamental laws of nature.
Researchers want to develop gels for healthcare applications by mixing in medicinal compounds, and giving patients injections so that the gel releases the active pharmaceutical ingredient over a period of months to avoid weekly or daily needle sticks. In a paper published Feb. 2 in the journal Nature Communications, Appel and his team detail their successful first step toward making temperature-resistant, injectable gels with a concoction designed to cleverly bend the laws of thermodynamics.
"We are trying to make a gel that you could inject with a pin, and then you'd have a little blob that would dissolve away very slowly for three to six months to provide continuous therapy," Appel said. "This would be a game-changer for fighting critical diseases around the world."
The research results are published in this article.
Read the full article at Stanford News.
Visible Legacy Comment
We've highlighted research in the Mark Davis Lab in a previous post and we can see that Dr. Eric Appel has been a frequent collaborator. Dr Davis is in the NIH ACTIV Vaccines Working Group so a Tech Scout seeking solutions for COVID-19 vaccines might use VL Navigator to explore the ecosystem to find related technologies available for license through Stanford OTL, such as "Toll-like Receptor (TLR) 7/8 Agonist Nanoparticles for Cancer Immunotherapy and Vaccines" and trained researchers such as Gillie Agmon Roth and Anthony C. Yu. This recent news on gels shows future promise for vaccine delivery solutions. Please check out this and other research in the Stanford multidisciplinary collaboration by exploring the map below.
Additional Info
Navigator:

Widget:

Caption:

Stanford Appel Research Ecosystem
back to top