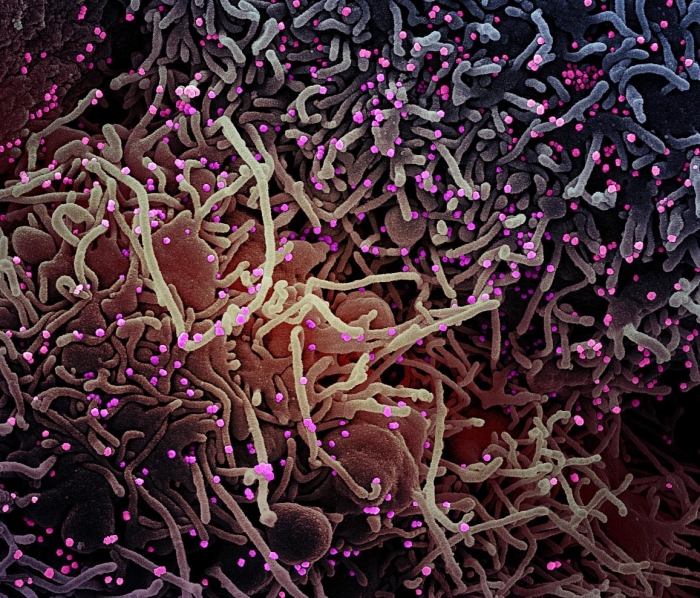 (Image credit: NIAID Integrated Research Facility in Fort Detrick, Maryland)
NIH Director: Defeating COVID-19 requires unprecedented action and collaboration
To respond to the generational public health crisis caused by the global COVID-19 pandemic, a swift, coordinated effort across many sectors of society is necessary, say National Institutes of Health (NIH) Director Francis S. Collins, M.D., Ph.D., and Johnson & Johnson Vice Chairman of the Executive Committee and Chief Scientific Officer Paul Stoffels, M.D.
In a Viewpoint published May 2020 in JAMA (see link below), Drs. Collins and Stoffels outline the innovative efforts of Accelerating COVID-19 Therapeutic Interventions and Vaccines (ACTIV), a public-private initiative organized by NIH and the Foundation for the NIH. ACTIV's partners, which include at least 18 leading biopharmaceutical companies, multiple U.S. federal agencies, and the European Medicines Agency, are developing an international strategy for an integrated research response to COVID-19.
Never has a public-private biomedical research effort of this scope and scale come together with such speed and determination.
The objectives are published in JAMA in this article.
Read the full article at NIH News.
Visible Legacy Comment
This article from NIH describes an important initiative fostering collaboration between academic research, industry, and grant-making entities. It tackles a high-priority problem seeking global solutions, SARS-CoV-2. Because it is intended to be a fast-paced translation of research into solutions, the Visible Legacy Blog will watch for breaking public technology disclosures from participating universities had highlight them in our Innovation News section. We will  watch the activities of the ACTIV Vaccines Working Group which has participants from Stanford, Duke, University of Washington, UCSF, University of Pennsylvania, Fred Hutchinson CRC, and Baylor. Many universities have COVID-19 specific technology releases and we track and map disclosure sites in our Navigator. We hope to help Tech Scouts from industry find new innovations to speed industry solutions for COVID-19.
Additional Info
Navigator:

Widget:

Caption:

NIAID participating in several ACTIV Projects.
back to top