Written by Visible Legacy News
Stanford News Feed
We are improving the Stanford News Feed running into Visible Legacy Navigator. The best way to find the latest articles is by using Advanced Search. 
The Advanced Search in Visible Legacy Navigator is a powerful way to focus your search. You can specify the source, date range, keywords and words in the topic title. Finding the most recent news articles from Stanford News is a good example of how to use Advanced Search.
Advanced Search panel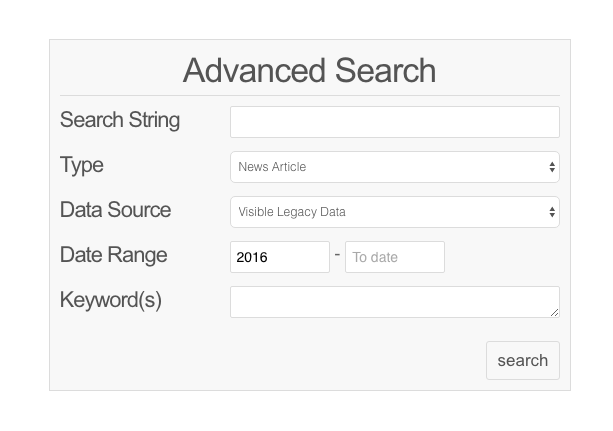 These are the steps to use Advanced Search to retrieve the Stanford News Feed results as shown in the header image.
In the Advanced Search panel Type drop-menu, select News Article.
For the Data Source drop-menu, select Visible Legacy Data. This data source contains topics that have been tagged by our curators.
For the Date Range, select 2016 for the "From date" and leave the "To date" blank. This will select all articles for 2016 and later. 
You may enter words in the Search String field. Advanced Search looks for Search String words in the title of the article or topic name.
You may enter Keywords in the Keywords field. There is an auto-complete feature. Advanced Search looks for topics tagged with these Keywords. Note the Keywords are combined with logical AND.
If you follow a topic by clicking the title of the topic, you will see a Navigator Map similar to this one. The map shows the context of the News story in time and lets you navigate the people, papers, and projects behind the story.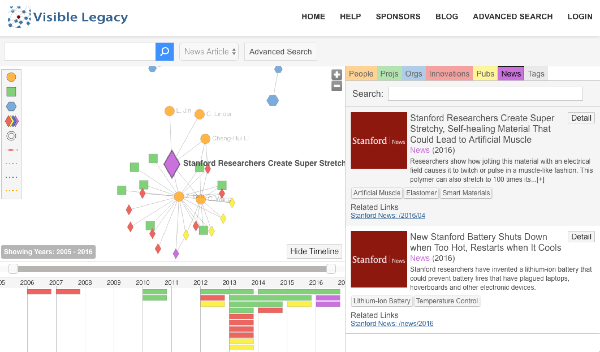 Please also visit the Stanford News.
Stanford News