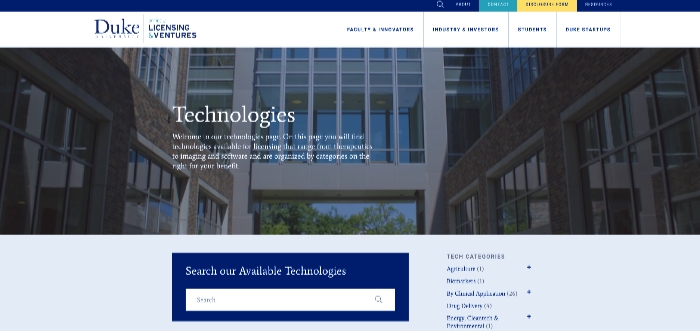 Technology search portal at Duke University OLV
Written by Visible Legacy News
Innovations from Duke University
Featured
We are adding Duke University as the next institution into Visible Legacy Navigator. Here are some examples in the Photonics domain. 
Industry Tech Scouts, academic collaborators, and research funders may find it useful to see the context of newly disclosed innovations by exploring the innovator's widgets. We can use the compact, embeddable "widgets" we created for the Stanford Tech Licensing web site.
We've selected four recent innovations from the Duke University Office of Licensing and Ventures site using "Photonics" as a search term.  Here are the widgets for the principal investigators associated with the four new innovations.
Duke April S. Brown Lab
Duke Gabriel P. Lopez Lab
Duke Benjamin Yellen Group
Duke Jie Liu Group
Duke Charles Gersbach Group
Duke OLV Search Page.
Please also visit the Duke Office of Licensing and Ventures (OLV) search page for more innovations. Search for Photonics to find these technologies and more. Their website has been significantly updated and enhanced as of Spring, 2017!
170526, 170616 edited for links and image