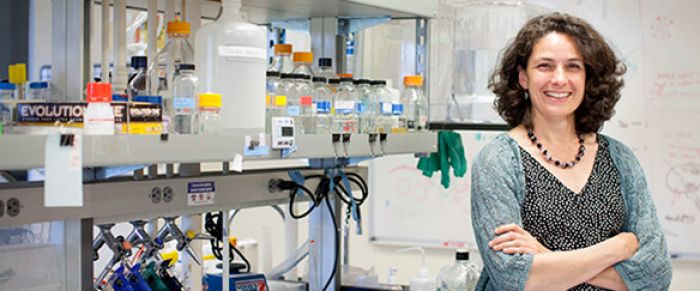 Howard Hughes Investigator Nicole King (source: HHMI)
The HHMI Investigator Program
The 300+ Howard Hughes Medical Institute investigators are pushing the bounds of knowledge in biomedical research and creating opportunities for translational research.
"The current group of HHMI investigators includes 24 Nobel laureates and 182 members of the National Academy of Sciences. HHMI urges its researchers to take risks, explore unproven avenues, and embrace the unknown – even if it means uncertainty or the chance of failure. They identify and pursue significant biological questions in a rigorous and deep manner. They develop new tools and methods that enable creative experimental approaches to biological questions, when necessary bringing to bear concepts or techniques from other disciplines. They forge links between basic biology and medicine, opening new pathways for disease diagnosis and drug discovery."
Visit the HHMI Investigator Program website.
HHMI has created a unique and powerful program by employing scientists as investigators rather than awarding them grants for specific research projects. HHMI provides its researchers long-term, flexible funding that gives them the freedom to explore. Stanford has 23 investigators in the program.
updated 4/6/2017
Additional Info
Navigator:

Widget:

Caption:

The HHMI Investigator Program represents collaborative partnerships with more than 70 research institutions.
back to top