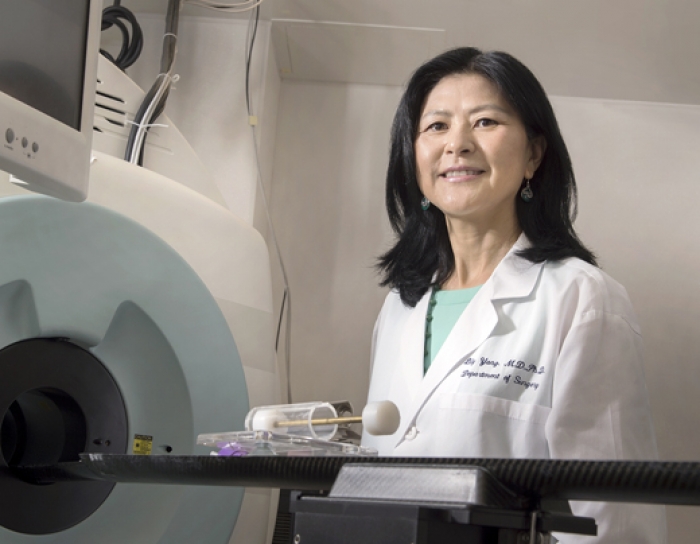 (Image credit: Emory University)
NCI five-year grant extends nanoparticle research targeting pancreatic cancer (recent results)
The National Cancer Institute (NCI) has awarded a five-year grant to researchers at Winship Cancer Institute of Emory University who are developing nanoparticles to treat pancreatic cancer, one of the most deadly cancers.
[This is a story of grantor impact. This release is from Oct 2015 but recent and continuing results discussed below. -ed.]
The Innovative Research in Cancer Nanotechnology program project grant will support the research team to engineer theranostic magnetic iron oxide nanoparticles for use in nanotechnology enhanced targeted therapy and image guided drug delivery. The researchers' primary aim is to overcome a major barrier to treatment in pancreatic cancer – the stroma of pancreatic tumors. Stroma is the connective tissue that supports organs and provides nutrients and regulatory signals to cells, but tumor stroma becomes dense and fibrotic in pancreatic cancer, creating an obstacle to drug delivery and a micro-environment to support the aggressive nature of cancer cells. The magnetic iron nanoparticles will be loaded with different types of drug molecules that can be released at the site of the tumor or even inside the tumor cells. The nanoparticles are tracked by magnetic resonance imaging (MRI) to allow visualization of drug delivery sites and treatment responses.
"Our team plans to create a new generation of "smart" and multifunctional nanoparticle drugs that have the ability to penetrate tumor tissue and break the tumor stroma, overcoming the major challenge of effectively delivering potent drugs for targeted treatment of pancreatic cancer," says Mao. "The development of a stroma-breaking nanoparticle platform could be a game changer in the treatment of pancreatic cancer as well as other stroma-rich cancers," says Yang.
The recent available technology is published on this Emory OTT TechnologyPublisher page.
Read the full article at Emory News.
Visible Legacy Comment
This 2015 Press Release documents a continued grant series to Emory grant which was part of the NCI's Alliance for Nanotechnology in Cancer, which was established in 2004 and dedicated to changing how cancer is diagnosed, treated and prevented, using nanotechnology solutions. The Emory team led by Yang and Mao was one of only five programs nationally receiving awards from all three funding phases of the alliance funding. The grants continue to have impact with new and innovative nanotech solutions to cancer therapeutics. For example, Tech Scouts might look at the Lab's latest release "Targeted Anti-Cancer Nanoparticle Therapy" with a method that targets solid melanoma tumor cells. Please open the timeline in the widget below to see how the Grants (dark green) lead the public disclosures (red) so you can begin to see the hotspots of innovation. Click through the "Emory University OTT" node (blue) to find all Emory technologies.
Additional Info
Navigator:

Widget:

Caption:

Emory University Yang Lab: Targeted Anti-Cancer Nanoparticle Therapy
back to top