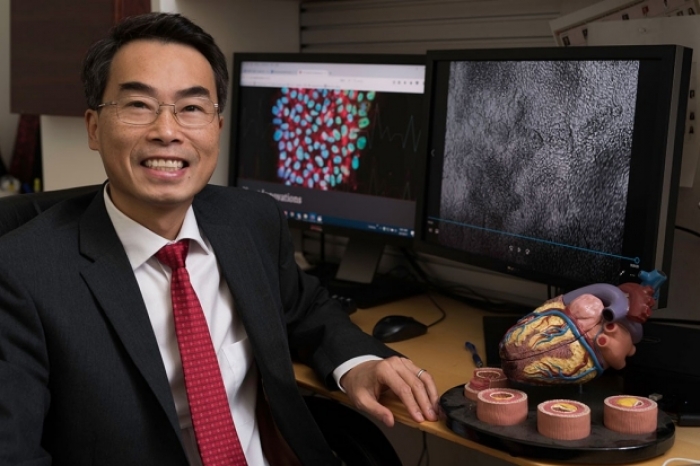 (Image credit: Steve Fisch)
Study solves mystery of genetic-test results for patient with suspected heart condition
Featured
Stanford researchers used genetic-editing tools and stem cell technology to uncover whether a genetic mutation linked to a heart rhythm disorder was benign or pathogenic.
Although DNA testing is becoming increasingly quick, cheap and easy to perform, the results are sometimes ambiguous: Gene mutations called "variants of uncertain significance" can create uncertainty about a patient's risk for a disease. Now, Stanford Professor Joseph Wu and a team of researchers have developed a technique that could shed light on the significance of such variants. Their first step was to generate induced pluripotent stem cells from cells obtained from the patient's blood. These kinds of cells, which are grown in the lab, are what researchers refer to as a "disease in a dish" or a "patient in a dish." They then used a gene-editing tool known as CRISPR to correct a found mutation. Comparison confirmed the patient had the mutation.
"This is one of the first cases of using stem cells and genomics for precision cardiovascular medicine," said Wu, who is also the Simon H. Stertzer, MD, Professor and director of Stanford's Cardiovascular Institute.
The research results are published in this article.
Read the full article at Stanford News.
Visible Legacy Comment
The success of several test cases suggests that htis platform is a promising risk-assessment tool.The work is an example of Stanford Medicine's focus on precision health, the goal of which is to anticipate and prevent disease in the healthy and precisely diagnose and treat disease in the ill.
Additional Info
Navigator:

Widget:

Caption:

Map of Stanford Professor Dr. Wu
back to top