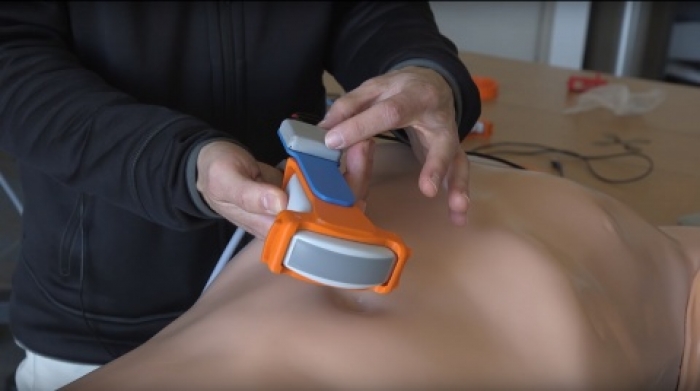 (Image credit: Dr. Josh Broder, Duke University)
For $10, turn 2D ultrasound machines into 3D scanners
Featured
With a $10 microchip, it's possible to turn a $50,000 ultrasound machine into something closer to a 3D imaging device that normally costs around $250,000, researchers report.
The key to the technology is a fingernail-sized microchip that mounts onto a traditional ultrasound probe—the plastic scanner that slides over gel-slathered skin to relay two-dimensional images of what lies beneath.
"With 2D technology you see a visual slice of an organ, but without any context, you can make mistakes," Broder says. "These are problems that can be solved with the added orientation and holistic context of 3D technology. Gaining that ability at an incredibly low cost by taking existing machines and upgrading them seemed like the best solution to us."
The research results are published in this article.
Read the full article at Futurity News.
Visible Legacy Comment
Stanford University's branch of the Wallace H. Coulter Foundation supported this research. This project demonstrates the impact of Coulter Foundation through funding collaborative translational research projects at several universities. A recent grant from the Emergency Medicine Foundation and General Electric will fund clinical trials for the device's use to locate and identify bleeding and hemorrhages in patients with traumatic shock. This technology and other emerging innovations from the Dahl and the Trahey Labs are shown in the map below.
Additional Info
Navigator:

Widget:

Caption:

Ultrasound Probe Fixture System to Aid Sensor-based Volumetric Imaging and Needle Insertion
back to top