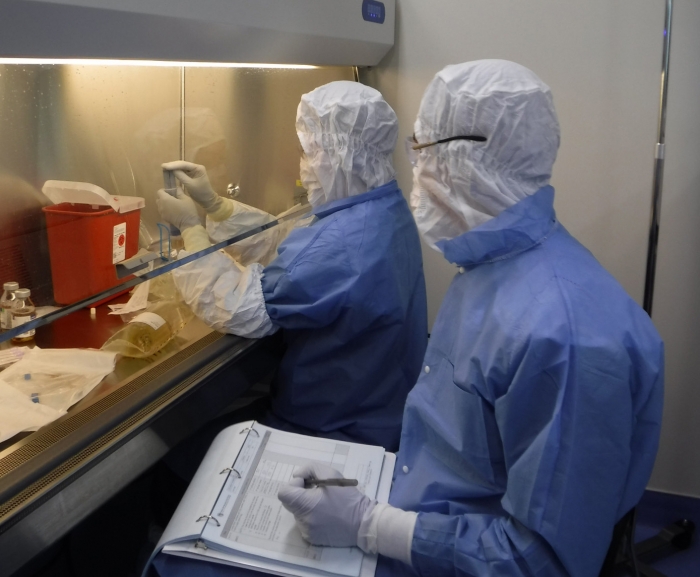 (Image credit: University of Colorado)
Driving Revolutionary Advances in Cancer Treatment
Featured
Though newly approved for treatment of multiple myeloma, CAR T-cell therapy has, over the past few years, created new hope for patients with blood cancers. Researchers are now reviewing its effectiveness in treating solid tumors and brain tumors as well. Armed with the expertise and equipment to conduct numerous clinical trials involving CAR T-cells, the CU Cancer Center is one of the institutions on the leading edge of a revolution in cancer treatment.
For patients like Randolph, the CAR T-cell therapy process begins with a simple in-clinic blood draw. The blood is then frozen and sent to a lab, where the CAR is added to the T-cells. A few weeks later, the patient checks into the hospital and receives some mild chemotherapy to neutralize immune cells that might attack the CAR T-cells. The reengineered blood is then infused back into the patient over several hours, and doctors watch closely for side effects including cytokine release syndrome, an inflammatory response from the immunotherapy that can cause inflammation in the brain. The treatment currently is approved only for patients who have failed other forms of chemotherapy and immunotherapy, but researchers are hopeful it will eventually become a more frontline standard of care.
"You can genetically engineer out all the bad parts of the HIV virus and put in all the cancer-fighting parts," says CU Cancer Center member Clay Smith, MD, director of the Blood Disorders and Cell Therapies Center at UCH. "We do that because the HIV virus is very efficient at infecting the T-cells to turn them into CAR T-cells. Having grown up at the time when HIV was first discovered and was a tragic epidemic, it's been amazing to watch how they can take something that devastating and turn it into something not only harmless, but actually beneficial to people with cancer."
The research comments are published in this article.
Read the full article at U of Colorado News.
The technology is available on this CU Innovations TechnologyPublisher page.
Visible Legacy Comment
At the University of Colorado Cancer Center, the road to the CAR T-cell revolution began in 2006, with the opening of the Gates Center for Regenerative Medicine on the University of Colorado Anschutz Medical Campus, according to the article. Focused originally on stem cell therapy, the center has since become a leader in CAR T-cell therapy as well. In 2015, the Gates Center and its partners built the Gates Biomanufacturing Facility to help on- and off-campus investigators translate innovative research discoveries into safe and effective new cell therapy and protein products for use in clinical trials. Building on this foundation, Dr Mark Kohler and Dr Terry Fry et. al. have put out a Pub Med comment on chimeric antigen receptor T Cell therapy and a technology disclosure (links above) which discuss "Novel CAR T Constructs". Dr Fry has also joined Sana Biotechnology as Head of T Cell Therapeutics. Tech Scouts interested in CAR T Cell therapy might look more closely at this technology starting with the widget below.
Additional Info
Navigator:

Widget:

Caption:

University of Colorado Terry Fry ecosystem
back to top