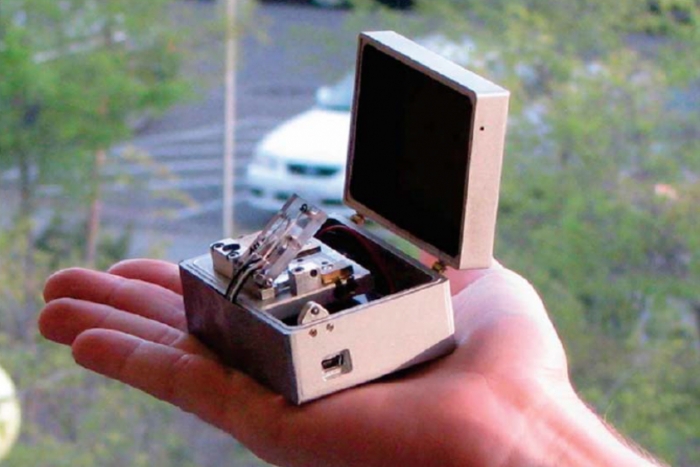 (Photo credit: Stanford Santiago Lab)
Stanford researchers developing rapid field test for COVID-19
Engineers are developing a portable field testing device that health care workers could use to quickly test for active infections of COVID-19 and other diseases.
Compact chemistry "labs" or kits based on microfluidics research are increasingly being used to test various liquids for toxins, pollution, parasites, microbes and more. Santiago and graduate student Ashwin Ramachandran are working to adapt one of his microfluidic tests for tuberculosis to detect the presence of the SARS-CoV-2 virus that causes COVID-19.
"Our test can detect an active COVID-19 infection – which is key to early detection and treatment," said Dr. Santiago. "The current rapid assays are based on antibodies to the virus, not the virus itself. So, those tests can tell the caregiver that the person has had the infection. Ours will tell them whether the patient is currently infected – and, therefore, infectious. This is a big distinction in isolating people who can infect others."
For industry: please visit the Stanford Thermal and Fluid Sciences Affiliates Program at this site.
Read the full article at Stanford News.
Visible Legacy Comment
The research team currently thinks the window is too narrow to help out much with COVID-19. However, a microfluidic test kit like this could be easily reconfigured to head off future epidemics much more quickly. The team believes one could quickly email the new RNA you were looking for and the kits could be reconfigured on the spot to look for any new virus or microbe of concern!  As we now see COVID-19 mutating and the window of opportunity growing longer, industry should take a look at this lab where affiliate resources might help speed development.
See a quick video about Visible Legacy Navigator and navigational search in this related post.
Additional Info
Navigator:

Widget:

Caption:

Stanford Microfluidics Lab
back to top