Vislble Legacy Navigator is an easy way to drill into Dimensions
Written by Visible Legacy News
Visible Legacy Navigator as visual front-end to Dimensions.ai
We have been working with Digital Science Dimensions group to investigate incorporating links into Visible Legacy Navigator so it can be a powerful navigational-search front end for their Dimensions.ai product. We have integrated these links and the result is available as an invited Beta version of Navigator. This blog discusses the features and offers some screen-shots and a video from the Beta site.  If you are interested in participating in the Beta evaluation please contact us for an invitation.
Digital Science offers Dimensions.ai , a linked research information system aimed at academic researchers, as a free public version and also as premium versions Plus and Analytics.  A researcher using the public view will find a wealth of citations. Digital Science, part of Holtzbrinck which owns journals such as Springer Nature and Macmillan, is excellent at curating and searching scholarly publications. If your university has licensed one of the upgrade versions you will automatically also see the Plus and/or Analytics panels for extra metrics.  We believe the Analytics panels are particularly useful.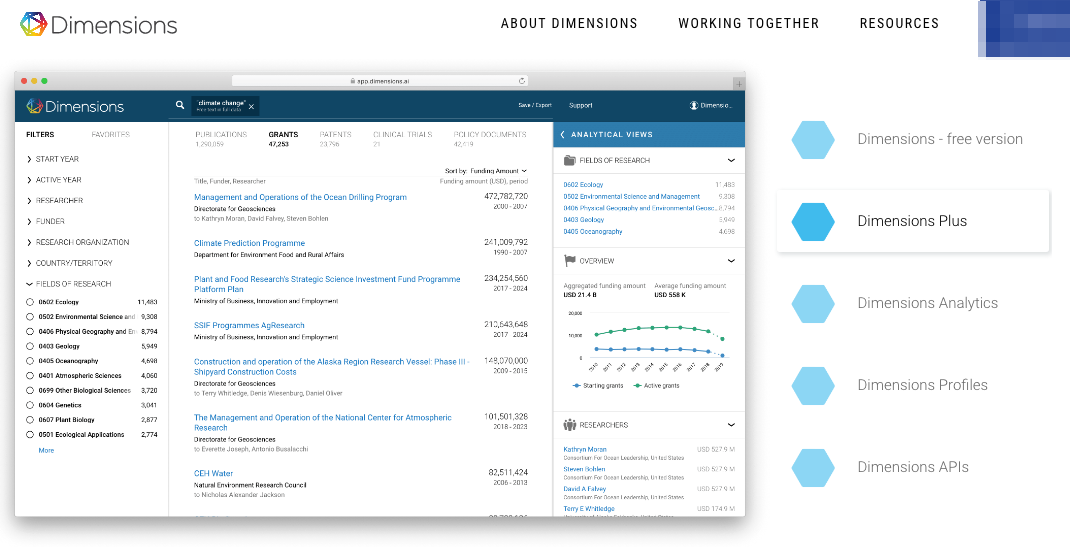 We believe Dimensions.ai and the Digital Science online tool set could be useful also for Tech Scouts.  Dimensions for publications, Altmetric for social score, ReadCube to bookmark these citations, Figshare allows researchers to post their datasets, and more. Please check out Digital Science offerings here and view our brief informal video at the bottom of this post.
Visible Legacy Comment
For those new to Visible Legacy: if you are not familiar with Visible Legacy Navigator(tm) interface and use we suggest you please watch the brief video embedded in this prior blog post.
We started connecting to Digital Science by adding the useful Altmetric Badge visual indicator of influence (see recent post) for papers. We were easily able to match up papers based on PubMed ID. The Altmetric Badge is currently in our production version of Navigator and itself links to Dimensions citations. 
Now in collaboration with Digital Science, we have used the Dimensions.ai API to match up IDs for investigators, grants, and organizations. We used our proprietary disambiguation engine to snap together our knowledge map and the Dimensions pages.  In cases where Dimensions has publication lists from several sources our snapping technology has successfully combined the results into a sophisticated Dimensions query and links you to combined results on one Dimensions page. We have added links to Patents and Grants using standard IDs if you prefer Dimensions pages to the primary sources.
Some Screenshots
Let's see how a user would use Visible LegacyNavigator to search for a name and find the Dimensions links.  Here are a few screenshots of features from the Beta.
The Navigator Detail Page for an investigator includes a link to the respective Dimensions publication list.  This means we have used the API to match up the investigator IDs between Navigator and Dimensions.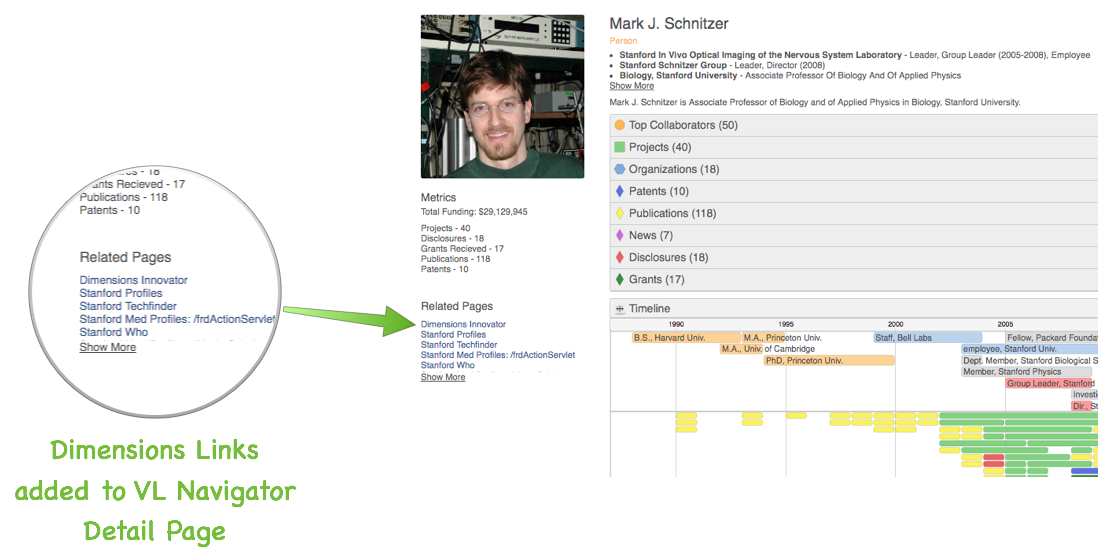 Clicking the "Dimensions Innovator" link takes you to the Dimensions publication list for the researcher.  The panels on the right depend on the level of Dimensions.ai product you have access to.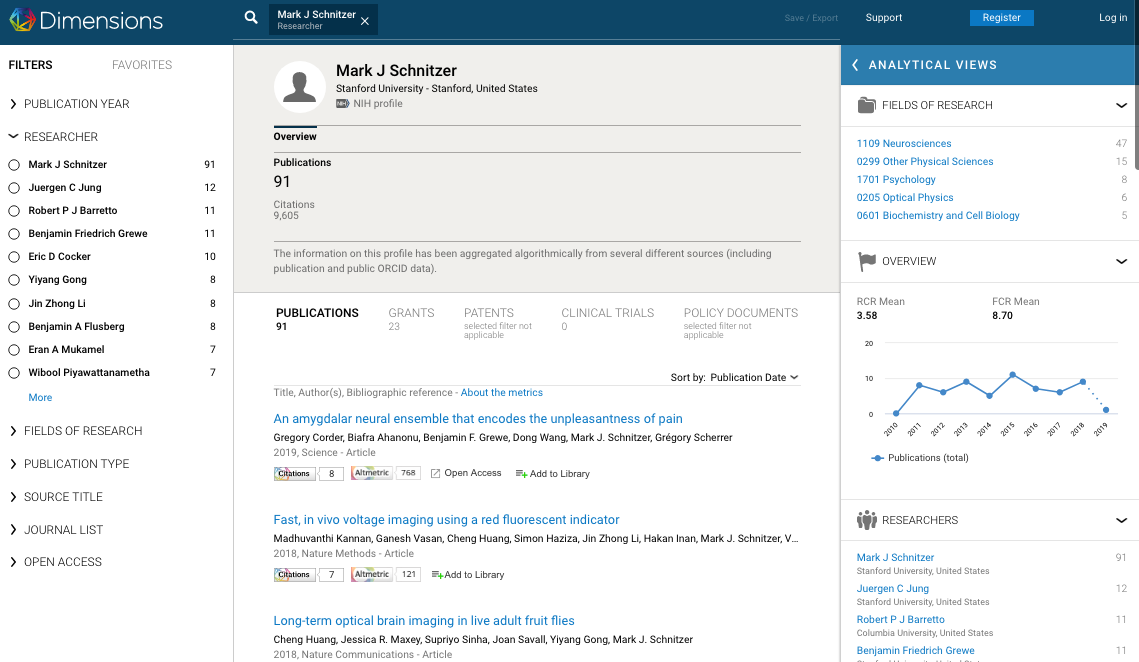 Similarly, in Navigator the papers, grants, and organizations are linked to respective Dimensions pages.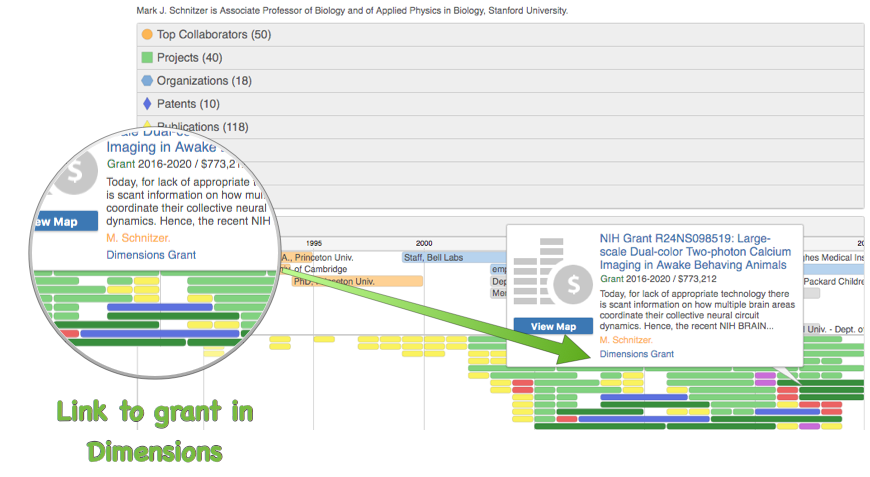 Which will take you to the Dimensions summary of the grant.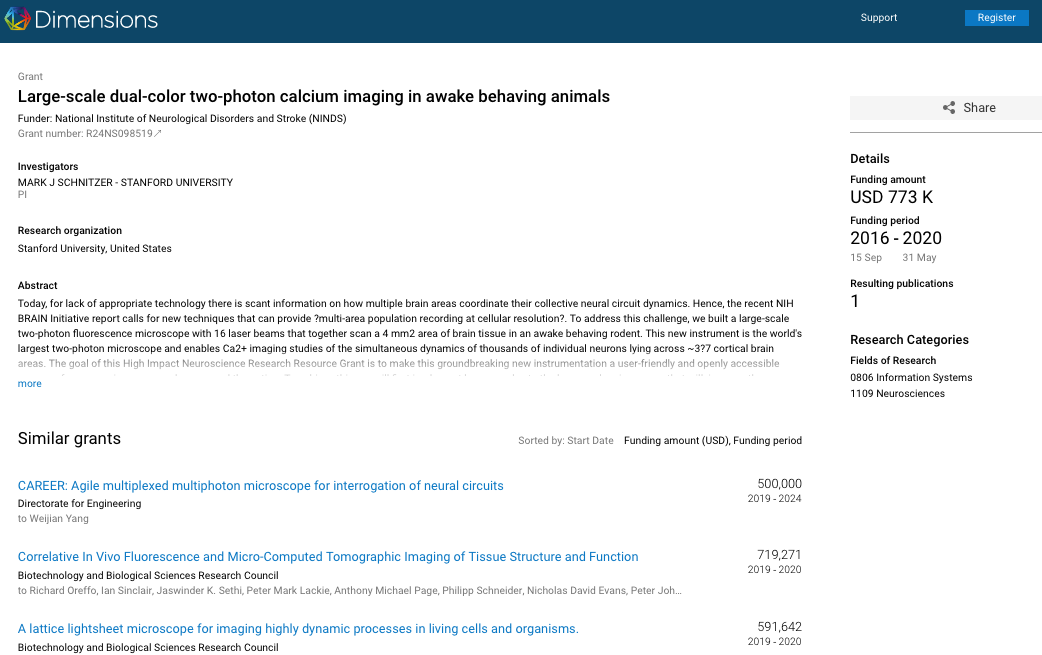 So Visible Legacy Navigator and Dimensions.ai are a powerful combination.  Dimensions presents high quality citations by investigator and by organization.  Visible Legacy Navigator offers a fast, easy to use navigational search front-end and shows the context of results in a pleasing connected graph for those who prefer maps to lists.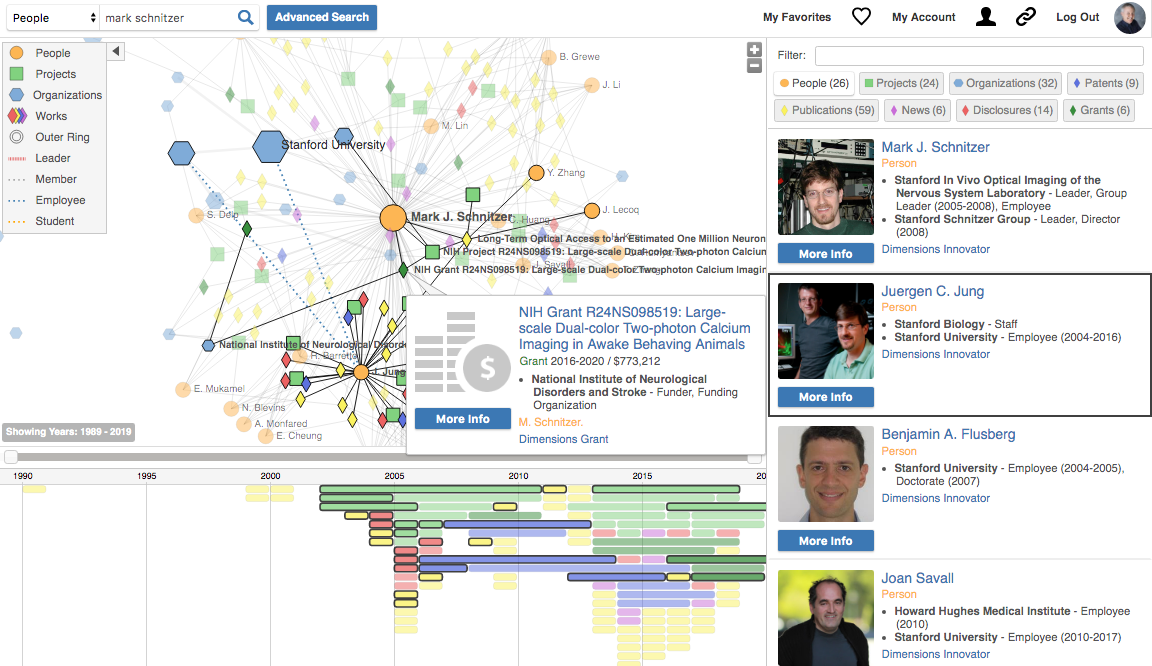 Since Visible Legacy shows what the public internet represents about your organization's work, the resulting maps can be used to show what the researchers or labs are known for. We offer an embeddable widget to put these maps right in your websites. As an example I used Digital Science Figshare to post my widget, see it here. It might be possible down the road to integrate these widgets in the Dimensions.ai Analytical Views panels. 
Visible Legacy Contribution
Holtzbrinck's vision revolves around global networking. We resonate with the Dimensions.ai objective of helping to explore connections between a wide range of research data and research inputs and outputs. We further support the Digital Science mission of offering tools to make the research process more open, efficient and effective.  In Visible Legacy's case we additionally want to increase the speed of communication to industry ("Tech Scouts") and improve the translation of academic research into developing businesses and solutions. We propose that incorporating links into Visible Legacy Navigator so it can be a powerful navigational-search front end for their Dimensions.ai product will contribute to the community.  
Try It Out
The integration is currently in invited Beta.  If you are interested in participating in the evaluation please contact us.
Media
VL and Dimensions Invited Beta Overview (6 mins)
back to top